The spring update for Battlefield 3 has been out for a few weeks now. It has turned the game upside down, so I think it is worth taking a look at one of the major changes - the shooting mechanics.

I have included all the info in the video itself, so I will just write a quick summary:
- shooting in short bursts is now a NECESSITY
- you can still kill enemies in full auto at 20-30 meters, but it depends on the weapon
- you WILL NOT kill anybody in full auto at 50 meters or more, unless they are damaged
- the choice of accessories now varies based on the weapon, you have to find a good combination based on your weapon of choice, and your playstyle



If you often wonder why you did not kill somebody even though you had your sight on them the whole time, this is your answer. You now know where the bullets actually go.

The funny part is, that this result is achieved without even being suppressed. Considering how strong the suppression effect is right now, do not be surprised when even your short bursts will not do anything while your screen is blurry.

It seems to me like DICE want to make another ArmA out of Battlefield. Me no like.
They have done it. With over 3 million dollars raised, Wasteland 2 is now officially in development.
Brian Fargo expects 6 months of pre-production, and then a year of actual development, which means we should expect the game by the end of 2013.
With such a big budget we can count on the game to feature lots of content, with a huge world, many characters, and most importantly a fulfilling story. "The sky is the limit" they said, let us hope these were not just words.
The next 18 months should be really exciting. Make sure you visit the official
Wasteland 2 website
on a regular basis, and read the blog, as well as contribute in the forums. I hope we will be receiving lots of major updates on the development progress.
They have also opened an official Wasteland 2 store, where at the moment you can pre-order a digital copy of the game for 20 $, if you or your friend missed the kickstarter event. The game will be priced higher once it has been released, so it is worth pre-ordering.
You can also update your pledge if you forgot to include 15 $ for international shipping.
They are also planning on opening a backer-only store, where we will be able to purchase some exclusive stuff, that will not be available to the general public. I cannot wait.
Anyway, I am really glad the kickstarter event was a huge success. Post-apocalyptic RPGs are very scarce, and I think Fallout is the only series having a major impact on the genre. It is nice that we will be getting a sequel to the godfather of one of my favorite titles of all time.
I myself have pledged 100 $, which is a lot as far as I am concerned, considering I am unemployed at the moment. I am really looking forward to all the stuff I am entitled to, including all the novellas, the playable beta, and of course the Collector's Edition once the game is released.
Bring on Wasteland 2.
I have just completed BioShock for the first time, and I just have to share my thoughts about this game.

First of all, as it is a 2007 game, I have missed it before as I have missed other titles of that period.
Why? Because it was a time where I constantly played my favorite older games, especially San Andreas and NFS U2.
It was not until late 2008 when I finally started playing new games, starting with Fallout 3. In January 2009 I got my first Xbox 360, so I finally started to catch up on my gaming.

Anyway, it was last year when I heard more about BioShock. I watched many videos, and I got really attracted to this game. It still took me a few months to get around to finally playing it, and I just cannot believe I lived for so long without playing this wonder.

Pros:
1) Atmosphere, atmosphere, atmosphere!!! Not only is the game set in an underwater city, but it is also built around a mid-20th century setting with futuristic elements, which is simply brilliant.
2) While playing this game I regularly felt like I was playing Fallout 3, as far as gameplay is concerned. It is not a sandbox, but the level design is great, and exploration actually makes sense. I looked around every corner collecting all the crap and loot I could find, dealing with a few enemies from time to time.
3) The shooting mechanics feel very at ease. There are no hordes of enemies, we have small groups of splicers or even many lone wolves. I love the fact the shooting is very oldschool, there are no pointless iron sights, just a circle so we can simply point and shoot, which is a lot of fun.
4) The game was even a bit scary in the beginning. I was not familiar with the game at all, so I had no idea what awaited me around the next corner. Using headphones made this feeling even more intense.
5) The sound is awesome. It is one of the major creators of the game's atmosphere, as well as the scary feeling in the beginning. I loved the moans and growls of the Big Daddies, as well as their footsteps.
The whole environment produces a very nice sound scene.
6) Graphics - considering it is a 2007 game, using the Unreal Engine 2.5, it looks really good. Apart from the textures, there is not a lot I could put my finger on. The overall design is really cool. I also liked the animations. They are really nice, especially compared to Bethesda's games, where animations are utter crap.
7) During the whole course of the game I was not annoyed EVEN ONCE, not even a little bit. The only thing that bored me after a while was the hacking. About halfway through I started using auto-hacks or buyouts. Other than that, pretty much everything was a lot of fun for me.

Cons:
It seems unbelievable, but I have been thinking for 5 minutes, and I really have no idea what to say.
Can I really come up with a con when I was not annoyed by anything in the game? The story? Nah. It is not an RPG, so for a shooter it is very much okay. It is a very interesting story, and the idea of the diaries uncovering the history of Rapture is very cool.
I cannot write a single con here, because I would have to try really hard, and it just seems pointless.


How to sum up this game? Well, BioShock is a nearly perfect game. It has now officially taken the third place on my top-games-of-this-generation list, and the tenth place on my all-time top 10, which is a real honor, considering only three other current-gen games made the top 10. Relegated from tenth place to honorable mentions is GTA IV. It is a very good game, but it is not the kind of GTA I have grown to expect.
I think BioShock can hold this place for at least a year. I do not think any of this year's releases could be so brilliant, and I do not expect BioShock 2 to be as good as the original, as it is a very similar sequel.
I expect it can be knocked down from the list by GTA V or Fallout 4, which (hopefully) seems probable.

Come to think of it, BioShock is even closer to perfection than all the games holding higher places on my top 10 list. Even so, it cannot do any better than 10th place, mostly because of the time spent with the game. As it is not a sandbox, there is nothing to do in the game after having finished it, except for completing it again, which I will of course do one day. The times when I played the same games over and over again are long gone. Quake II is a very good example of this, because I probably completed this game more than 50 times, but it is all in the past.
Sandbox games are my favorite kind, and even though all the GTAs got on my nerves many times, as did Fallouts and RDR, these are the games I spent an enormous amount of time with, and you can always come back to them in order to do something new. Nothing happens twice in a sandbox.

Congratulations to 2K for this game, for the world of BioShock. Creating a nearly perfect game is not an easy task. I cannot wait to play more games in the BioShock franchise, but I am taking a break for now. Max Payne 2 and Alan Wake await, and when I really start missing Rapture, I am sure I will enjoy BioShock 2 even more than I would now.

It has been a long time since a singleplayer game has made such an impression on me (not being a Fallout or a Rockstar production). I hope it will be a more common occurrence in the future.
Balance was never a strong point of the Battlefield series, but what we are seeing in BF3, especially after the latest patch, is ridiculous.
Almost every match I play ends with a complete domination of one side. To make this an even more sad story, I am usually on the side being owned.
It is a nice change when I can dominate a little bit myself, but I would immediately exchange that for a passionate match, where every side fights to the last ticket.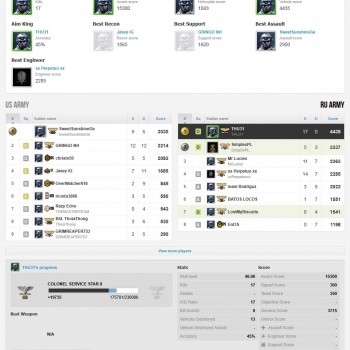 LINK
Another video from the Design and Technology Series is here.

Everybody knows bullet time inside out by now, but watching those Euphoria animations in slow motion is pure pleasure. This has to be a brilliant shooter.



The game's release date is just before E3, so I think we have had all the official presentations we could, the latest being held at PAX. From now on we have to count on Rockstar to show us more videos at their website. We can probably expect the second part of the multiplayer gameplay, as well as a launch trailer in about a month or so. Maybe they will surprise us with something before that.

Just over a month until the game is released. How quickly time passes when you are enjoying yourself.
Codemasters have released another trailer for the upcoming DiRT Showdown, and I have to say I was rather disappointed with it.

Do not get me wrong. Gameplay looks awesome, graphics are awesome, even the nitro boost will probably be fun in a game like this, but what disappointed me were the tracks. I think we have seen them ALL in the previous games. I definitely recognized Ensenada, Aspen, Smelter and Shibuya. There was one more track I was not sure about, so maybe it was new.



This does not really seem cool. Sure, they are nice tracks, I have had lots of fun racing on them, but when I am paying for a new game I would definitely want to see more new stuff, especially if they are planning on releasing them every year.

I will definitely not buy the game on release day. I still have fun in the previous games, so I do not feel like paying 60 $ for a game that will feature mostly the same tracks. At the moment only Forza Motorsport can get away with this, and it comes out every two years.
A few days ago I came across a very interesting picture, showing various covers of current generation games, and how they would have looked had the games been released 30 years ago.
It is a very nice idea. :)
It definitely shows how different are the times we currently live in.
You can see the entire collection here -
http://imgur.com/V5JpG

Top 5 Games:

1. GTA San Andreas
2. Red Dead Redemption
3. Fallout 2
4. NFS Underground 2
5. Fallout 3

view more...
Top Games of 2018:

1. Red Dead Redemption II
2. Forza Horizon 4
3. Shadow of the Tomb Raider
4. A Way Out
5. Gravel